Being a first-time homebuyer can be incredibly exciting but also intimidating. The search and buying process often comes with many questions and large amounts of information at once.
To make things easier for you, Guidry & Company is sharing some tips on navigating through this process.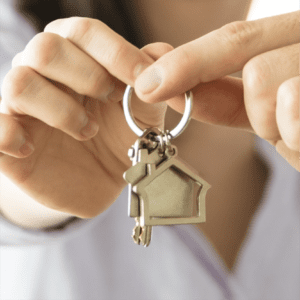 Are you ready to buy a home?
The number one factor to consider before buying a home for the first time is if you are ready. Homeownership is a massive commitment that comes with a lot of responsibility. Therefore, it is crucial to take the time to consider this decision and be sure that you are ready. Your REALTOR® can share with you many things to consider while making your decision.
Choosing a REALTOR® early on will help you every step of the way.
Guidry & Company Real Estate agents are highly trained and continue to raise the standard in client relations. Visit our REALTOR® page to acquaint yourself with real estate agents that care. In addition, each of our REALTORS® is available for a free consultation. So, take a minute to make the call and have your questions answered right now.
Understand the costs of being a homebuyer to plan ahead!
If you are planning to buy a home, you should start saving money as soon as possible! No matter the payment plan you set up, the home you are purchasing is a significant investment. Be sure to consider the required down payment, in addition to closing costs and move-in expenses, before signing off on a home. You may be eligible for loans and programs to offset the weight of the home-buying costs. But always do research and compare payment plans to see the most viable option for you. Your REALTOR® can recommend a lender who can help you understand the financing part of buying a home.
The many costs required in purchasing a home can add up, so it is important to consider these factors when determining your budget. However, once you set your budget and get pre-approved, the process of finding your dream home can truly begin!
Decide on what it is you want!
Now that you know how much you can comfortably afford to spend on a home, you should consider what you want. What type of home do you need? Are there specific neighborhoods that you favor? How near or far do you want to be from your place of work? How many bedrooms and bathrooms do you prefer?
Coming up with a list of wants, needs, and things you want to avoid can help you narrow down your search. When you know what you want, Guidry & Company Real Estate can make the entire process easier for you. So take a breather, and let us handle the exhaustive side of narrowing down the search!
Your REALTOR® will schedule private showings just for you!
While photos and online tours can help, seeing a home in person is the best way to decide if it is the right fit for you. You may be surprised to find things you love or come to realize you are not a fan of some things after an in-person visit. 
You will be making memories here for years to come, so take the opportunity to have your REALTOR'S® assistance in finding the house you would be happy to call home. 
Don't be afraid to ask for help!
We understand buying a home for the first time can be a daunting process, but we are here to help! Your REALTOR® will be right by your side to find the perfect home for you.
Guidry & Company Real Estate has 35 years of experience helping people buy their dream homes. Let us put our experience to work for you. Give us a call at (337) 984-4345, and we will get you through this huge milestone in your life with ease!