Have you closed on a new home or office and are now preparing to move? While it can be very exciting to move into a new space, it can also be stressful. You might not even be sure whether to do it alone or hire movers to help.
At Guidry & Company Real Estate, we are here to offer our advice even after you have purchased your new home or workspace.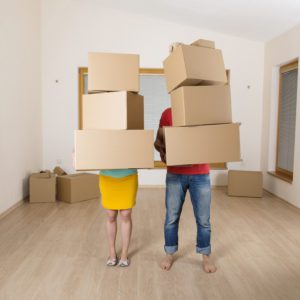 Plan Ahead!
To prepare for the moving process, you'll need to consider your budget, schedule, means of transportation, the weather, and the distance of the move. These considerations will help you plan properly and allow you to decide what best meets your moving needs. With that in mind, let's look at the pros and cons of moving with and without a company. 
Moving Without a Company
While it may seem simpler to move yourself, keep in mind that it can actually become more expensive and time-consuming than hiring a moving company. If you choose to move without hiring a company, don't be afraid to ask friends and family for help! These extra hands can offset the moving price and lower the time needed for the move. 
The first thing to consider is how you are going to transport your belongings. If you are moving larger items such as furniture or appliances, do you have a car or truck that can carry these items? Even if you do, will there still be enough room for the rest of your belongings? If you can't take everything, ask a friend or family member to borrow their vehicle for your move. If your move is long-distance or you have a high number of large items, consider renting a cargo trailer or moving truck.
The next thing to consider is how much time you have. Loading everything into a vehicle can take a lot of time, and you still have to drive, unload, and unpack. Having friends and family helping out can make this process go faster.
If you're moving nearby and don't have many large items, moving yourself is a great option that can save you a lot of money.
Moving With a Company
Moving with a company can be expensive, but it can save you time and make the moving process less stressful. There are also ways to save money by choosing only the specific moving services you need! For example, some moving companies provide large containers to be filled with your belongings that they then come back to pick up and transport to the new location.
Moving companies handle transportation and heavy lifting, which is one of the major benefits. This is especially useful if you have large items such as furniture and appliances.
While they are very helpful, remember that hired movers are human. These individuals take precautions with your belongings, but accidents can still happen. Therefore, it's always a good idea to set aside items with sentimental value to be moved by you.
Hiring movers may be best for people who have less time or don't have the means to move all of their belongings. It's also helpful if you are moving a long distance or your family and friends can't help you.
What Option is Best?
As you can see, both options have their pros and cons. If your move doesn't involve large items or isn't long-distance, consider moving on your own. However, if the move involves many large items or is further away, it might be best to go with a moving company. 
At Guidry & Company Real Estate, we are happy to talk with you about the best decision for you. So, give us a call at (337) 984-4345, and check out our guidebook for more moving tips.