When making decisions regarding real estate, it is important to work with a company of REALTORS® that has your interests in mind. At Guidry & Company Real Estate, you will be our number one priority.

Our company has remained locally owned and operated since 1984 and continues to support our local economy. Guidry & Company Real Estate began with the simple principle of "getting it done right" and has grown with every invaluable, skilled REALTOR® that has come to work with us. Together, we vow to help you achieve all your real estate goals. Guidry & Company Real Estate has earned a strong reputation for hometown service you can depend on. Whether you need help with home, land, acreage, or commercial real estate, we deliver professional services and embody the REALTOR® Code of Ethics with each client we serve.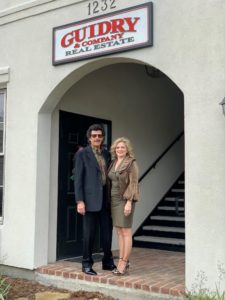 What We Do for You
It is well-known that we assist people with the buying and selling processes. However, we are also there to help if you haven't made the decision to buy or sell due to lingering questions. Our well-trained, professional REALTORS® can ease your mind by giving you the answers you need through our free consultations. We are available to answer your calls 7 days a week, whether it's morning, noon, or night!

Do you have real estate questions?
Do you want to buy or sell property?
Do you need help in the commercial or residential sectors?
Do you have an interest in selling or purchasing land?
Do you have an interest in trading real estate?
Do you have questions about a recently inherited property?
Do you want to work with a trusted company that's been around for more than 35 years?
If you answered "yes" to any of these questions, our caring REALTORS® at Guidry & Company Real Estate are here for you.
The Key to Your Future
If we've got your interest, make Guidry & Company Real Estate your first call at (337) 984-4345 to learn more about what we will do for you. We promise to give you our best, with our commitment to garnering trust through proven experience and ethical practices. We look forward to working with you!